Home Visit 2023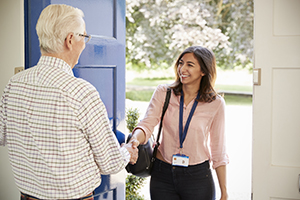 Invitation letters for the 2023 Home Visit have started to be sent out to UK based study members. We are interested in exploring the genetic, environmental and lifestyle factors that contribute to healthy ageing.
The home visit will consist of measurements and tests, most of which have been performed in previous home visits. Repeating the same measures will allow us to investigate how you have changed over time. We are also interested about your care giving roles and how this affects your health.
If you indicate that you are happy to take part, then over the coming months, a nurse will get in touch. The visits should take about 90 minutes.
The home visit is being conducted in partnership with NatCen and Inuvi.
Why have I not received an invite?
We will be sending out a second batch of home visit invitations later in the year, so if you have not yet received an invite it could be due to being in this second batch.
If you have already had an Insight 46 visit for wave 3 (wave 3 started in September 2021), then you won't need an additional home visit, as the measurements and tests are included within the visit.
Alongside the home visits, we are also recruiting for the 3rd wave of the Insight 46 clinic. If you have not received a home visit invitation it could be because we will be inviting you to clinic.
I have not returned the form, can I still take part?
If you have received an invitation and not yet replied, please send back the reply slip or email NSHD23@natcen.ac.uk and let us know if you would like to take part and if any contact details have changed.
If you have any questions about the study, please do not hesitate to contact 020 7670 5705 or freephone 0800 952 0249
For more information about this study: https://nshd.mrc.ac.uk/study-member-information/current-studies/HomeVisit/