70th Birthday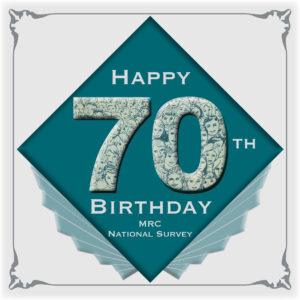 This year we celebrate a very special birthday as all members of the MRC National Survey of Health and Development are now 70 years old.  Thank you to all of our study members for their life long participation.
To celebrate this special year, we have produced a special birthday brochure "Celebrating 70 years of research into the health and lives of British people". The brochure summarises key findings over the last ten years, and provides some preliminary information from the recent postal questionnaire and home visit. It also has articles written by each of the speakers at the London and Manchester celebrations, and some quotes from study members.
We also arranged two events in London and Manchester. The morning and afternoon talks, posters and photo gallery are available.
A series of special articles, looking back over the past 70 years of the NSHD will be made available. These include: Happy 70th Birthday to the Douglas babies!, by John Frank, Mike Wadsworth and Diana Kuh,  March 1946: an extraordinary story begins, by Helen Pearson (science journalist and author of the Life Project) and Reflections of an ageing Douglas baby, by David Ward (study member of the NSHD).