Happy 70th Birthday
It is not often in life that one can wish several thousand people "Happy Birthday" all at once. It is even rarer to be able to say to them all: Thanks… very much… for your sterling, lifelong contributions to medical science.
NSHD is the longest continually-studied birth cohort in the history of science and we are getting ready to celebrate the cohort's 70th 'birthday week'. Thanks to the generosity of participants, more is being discovered now than ever before about what factors, from early life onwards, contribute to the risk of the commonest diseases of later life.
The NSHD data on the entire life course of thousands of initially healthy people, representative of all the British births in one week of 1946, is a goldmine of new preventive insights into the medical conditions that still rob thousands of older people of their health. The ambitious study and its findings are the subject of Helen Pearson's upcoming book 'The Life Project'.
Funding for the survey was acquired and data collection was begun within ten months of the end of the Second World War. Dr James Douglas began the study with two goals: to understand long-term change in the national population in terms of fertility and to find how to improve the health and care of mothers and babies. Over the years the scope of the survey has grown significantly.
In recent data collections we have measured physical and cognitive capability, assessed the musculoskeletal and cardiovascular systems and asked participants about their mental health and wellbeing.  These aspects of health were chosen because they have a significant impact on the quality and length of life, are potentially modifiable and evidence is accumulating that their origins lie earlier in life. We are increasingly aware that early life factors contribute to adult health and new NSHD research reveals that experiences during adolescence and midlife are also important.
Some of the findings that have come out of this study are now so widely known that to many they feel almost like common sense rather than knowledge we have gained through scientific study. For example, studies of the NSHD cohort showed the extensive differences in health between geographical areas and in mothers' and babies' health and survival in relation to socioeconomic circumstances. The survey's data collections throughout the school years on measures of cognition and intelligence and teachers' assessments of behaviour and attitudes to school work showed a great risk of under-achievement among bright children in poorer socio-economic families.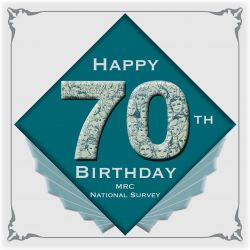 From Professor John Frank, Professor Diana Kuh and Emeritus Professor Michael Wadsworth
In the first week of March 2016, over 5000 people who have taught us a great deal about life are turning 70. These are the 'Douglas babies': members of the MRC National Survey of Health and Development cohort study who have been improving medical research since they entered the world, and Dr James Douglas' cohort, in 1946. Chair of the NSHD Steering Committee Professor John Frank, NSHD Director Professor Diana Kuh and her predecessor Emeritus Professor Michael Wadsworth, discuss this life project and wish them a very happy 70th.
Most of us are familiar with the long, silent 'pre-clinical' stages before heart attacks and strokes occur. We have long been aware, because this medical knowledge has penetrated lay society, that a very gradual process of narrowing and "hardening" of the arteries, heart and brain, precedes the typically catastrophic closing-off of these blood vessels that results in actual heart-muscle or brain-tissue damage. The NSHD shows how significant aspects of risk associated with these adverse adult health outcomes begin in early life and are amplified or reduced throughout life. It is now common knowledge that this gradual pre-clinical process can be slowed, and sometimes even halted or reversed, by intensive treatment of elevated "bad" cholesterol levels in the blood, high blood pressure, as well as smoking cessation, weight loss where appropriate, dietary improvements and increases in daily physical activity – just to name the most common, treatable risk factors for cardiovascular disease. The same prolonged preclinical and largely silent stages precede the overt manifestations of cognitive and functional decline and of many other common diseases of later life, such as cancer, diabetes and dementia; and to understand these, researchers need to closely follow a large number of initially healthy people as they age.
The continued high rates of participation by study members allow this research to be undertaken and the study remains broadly representative of the population born in Britain in the immediate post-war period.
In the last decade we have increasingly used NSHD data in combination with data from other cohorts to replicate findings and to provide large enough samples to discover small genetic effects. Coordinating and integrating research across cohort studies moves the science forward more quickly and helps to assess its policy relevance.
Over its 70 years, a number of factors have been key to the study's success. First, the parents who instilled in their children the importance of this study, whose own participation reflected the post war spirit of optimism and commitment to improve society for the benefit of all. Second, the commitment and participation of study members that allows the research to continue. Third, the core funding by the Medical Research Council since 1962 has been critical in facilitating innovative science. Fourth, the study directors who made sure that the study always addressed scientific and policy questions that were seen as relevant to people's lives. And fifth, the superb study teams with whom we have worked for their commitment to the NSHD and its study members, high quality scientific research and desire to translate their findings into improving the health of older people in Britain today.
Happy birthday to the thousands of life-long members of the MRC National Survey of Health and Development!