The Life Project
March 1946: an extraordinary story begins
How the NSHD inspired a writer and a book
Helen Pearson, science journalist and author of The Life Project: The extraordinary story of our ordinary lives, published in March 2016

Seventy years ago in March 1946, when NSHD study members were born, they became part of something truly extraordinary – a group of babies who would be watched by scientists more closely than any before. The NSHD is today the longest running study of human development in the world, a crown jewel of British research, and the envy of scientists everywhere. Study members already know they are some of the best-studied people on this planet. But I learned about it in December 2010, sixty-four years after the first study baby was born − and it inspired me to write a book.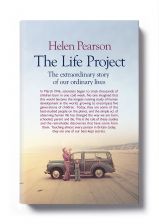 At the time, I was working as a journalist and editor for the scientific journal Nature, in New York. I was interested in human stories and I stumbled on the NSHD when I was googling around. I called Diana Kuh and spoke to her for an hour on the phone. In that time, she talked me from the study's origins as a ground-breaking survey of births just months after the end of the war, right up to the present, as thousands of people in the cohort approached retirement age. 'It's the best study in the world in my view,' she told me. I realised that this was an amazing story that should be told.
Anyone who learns about birth cohort studies tends to be enraptured by them – and I was too. The journey to explore the NSHD and the other British birth cohort studies that followed has taken me through libraries, laboratories and living rooms. I have talked with geneticists, economists, epidemiologists and statisticians. I peered into boxes of human teeth and freezers full of urine samples; I thumbed through stacks of punch cards just like those on which NSHD data were once laboriously stored. I read examples of the original questionnaires that mothers answered in 1946.

Who looked after your husband while you were in bed with this baby? Were you able to get your full extra ration of a pint of milk a day? How much did you spend on vests, napkins, petticoats, bootees, bonnets, shawls, knickers and rubber sheets for baby? And how much did you spend on smocks, corsets, nightdresses, knickers and brassieres for yourself?
I was lucky enough to talk to a few study members about their lives (with their permission, of course, as their identities are closely guarded by scientists). All are ordinary people leading ordinary lives, but together their stories have added up to an extraordinary piece of science that has produced an incredible legacy.
The findings from the British birth cohorts have been both prolific and far-reaching. In the 1940s they helped to shape the fledgling National Health Service, resulting in better care for pregnant women and helping to improve outcomes in all future births. Through the 1950s, 60s and 70s, they showed that bright children from working-class backgrounds were unnecessarily falling behind at school, and they exposed the lasting impact of divorce on children. They have showed that our growth and development in the womb can affect our risks of disease decades down the line – and even how long we are likely to survive.
At the same time, I discovered what had been going on behind the scenes. These valuable studies have always been vulnerable to lack of funding or the shifting winds of scientific fashion and political support. When James Douglas, the pioneering founder of the NSHD retired, the study was nearly scrapped – but then in 1979 Michael Wadsworth loaded up two trucks with punch cards full of data and drove them down the M4 from London to Bristol to give the study a new lease of life.
When Michael Wadsworth retired and the study again looked a little precarious, Diana Kuh picked up the baton and pushed valiantly on.
The story of the British birth cohorts is therefore one of a struggle for survival, and the heroes of that story are both the lifelong study members and the remarkable scientists who have fought for the studies in which they passionately believed. The commitment, stubbornness, charm and eccentricities of the scientific investigators have brought the benefits of these cohorts to the attention of the world. I have spent well over 200 hours interviewing these scientists and learned how deeply they care for these studies and all the people in it. (Obviously this is hard for them to express – we are British, after all.)
It isn't easy to start and run birth cohorts, and there have been several failed attempts around the world. Through challenging times, British scientists have pushed on, got the job done, and kept collecting data whenever they could. The reason that the British cohorts are still here is because the scientists did what the British have always done: they kept calm and carried on. The British birth cohorts are one of Britain's greatest national treasures and the credit they deserve is long overdue.