Cardiac MRI
The human heart's potential to regenerate itself is lost after childhood so the state of the heart by the time we've reached adolescence is a key determinant of our future cardiovascular wellbeing. Throughout life, the heart and cardiovascular system are exposed to various protective and harmful factors. It is the delicate balance and timing of these factors which will ultimately determine the onset of cardiovascular disease, frailty, disability, and loss of independence. Population ageing is a global challenge and in partnership with the British Heart Foundation, we are looking for ways to maintain heart health (also known as myocardial fitness, hence the project title MyoFit46).
Over the next two years, we are looking to recruit 550 study members for a non-invasive, radiation-free heart MRI scan and comprehensive ECG trace for heart rhythm assessment. Life course data that have already been collected in the NSHD study will now be combined with some of the most advanced cardiac imaging and computational approaches available to investigate how cardiovascular longevity can be preserved.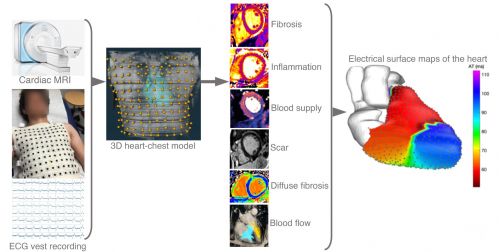 This diagram highlights how we intend to generate the world's largest library of whole heart models to understand cardiovascular ageing and the determinants of heart fitness in older age. Through the world's first combination of a 'state of the art' heart MRI scan and multi electrode surface electrical recording we are able to create a detailed model to highlight all the areas of your heart function including an insight into heart muscle scar, inflammation, blood supply, blood flow and electrical abnormalities.
We have already recruited over 100 study members and we would like to thank everyone who have already attended the MyoFit46 visit in Central London. We have presented preliminary results at major scientific meetings already and have been awarded the UCL Medical Engineering Congress top prize for innovative science and shortlisted as prestigious'Investigators of the Year' at both the British and international Societies for Cardiovascular Magnetic Resonance.
MyoFit46 mission:
"To gain unprecedented insights into cardiovascular ageing using cutting-edge cardiac MRI and heart rhythm approaches"
What does the study involve?
If you choose to take part then we will invite you to have a heart MRI scan. This will allow us to study your heart structure and function, both at rest and under stress conditions. We will contact you before the scan to perform a short questionnaire to check that you are safe to go into the scanner.
On the day of the scan you will be asked to lie on your back for around 5 minutes whilst we record an ECG of your heart rhythm.
We will then invite you to lie on your back inside the heart MRI scanner for about 40 minutes while a radiographer or doctor operates the scanner from behind a window. We will use a small plastic cannula to administer a simple 'dye' and a small amount of medication to simulate physical exercise during the test.
You will be provided with an information booklet prior to consenting to the study and you can get in touch with the study team at any time if you have any queries.
Who will be invited?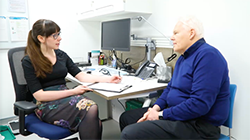 We will be sending out invitations to all eligible study members over the next 2 years. If you have yet to be contacted and would like to take part, please get in touch with out research team by email on mrclha.enquiries@ucl.ac.uk or by phone on 0800 952 0249 or 020 7670 5705. We will organise your travel arrangements around a date and time that works for you. The cardiac tests which you undertake as part of MyoFit46 count as a true and proper "MOT" of your heart and we always send you and your GP a letter summarising the main findings, for your peace of mind. If you like, we can also include some colourful cardiac MRI images of your heart in that report.