2023 Home Visit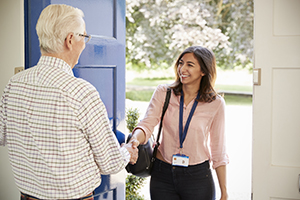 The home visit will consist of a short interview with a research nurse who will take a blood sample and some measurements and ask you to do some tests and complete a short questionnaire.  The visit should take about 90 minutes to complete. Your participation is entirely voluntary. Choosing not to participate will not disadvantage you in any way.
At the beginning of the visit, the nurse will ask you to sign a consent form to take part in the home visit and to give the team permission to access your health records. You will be given a signed consent form to keep. The nurse will also ask your permission to do each measurement and test. If there is something you are unable to do or don't want to do, let the nurse know and you can skip it. You are free to withdraw at any time, without giving a reason. This would not affect your ongoing medical or legal rights.
The nurse will ask a series of questions about your health, lifestyle and life circumstances. Many of these questions update and extend information we have previously collected, for example about your participation in everyday activities. The nurse will take some measurements over light clothing and ask you to do a series of physical and cognitive tests. You may recognise a number of measurements (such as height and weight) and tests (such as grip strength, lung function and memory tests) that have been conducted at previous data collections. Repeating them means we can compare your results taken at different ages and see how your health is changing.
We have set up an frequently asked questions (FAQ's) page for this study
Information on how to opt-in to the home visits
If you have been invited and choose to take part in a home visit, you can opt in by either:
1. Filling in the reply slip sent out with the invitation and returning it to us using the pre-paid envelope.
OR
2. Emailing NatCen at NSHD23@natcen.ac.uk indicating:
Whether you would like to take part in the study
Whether any of your contact details have changed
Your preferred contact telephone number
If you indicated you would like to take part, then your details will be handed over to the nurse, who will call to make the appointment for your home visit. Please be aware that it might take a few months for the nurse to call to arrange the visit.
Please return the reply slip by the date specified on your invitation. If we do not hear from you then someone from the NatCen team will call to see if you would like to take part.
Who should I contact if I have a query?
If you have queries about the visit, please contact NatCen on 0800 652 4574 or NSHD23@natcen.ac.uk.
If you have any general queries, please do not hesitate to contact the NSHD team directly on 020 7670 5700 or 0800 952 0249 or email MRCLHA.Enquiries@ucl.ac.uk and we shall be happy to help.