Neuroimaging
The neuroimaging clinical study (also called Insight 46) is a clinical study with the specific aims of identifying brain changes that accompany healthy ageing and detecting brain changes that might help predict who is at greater risk of developing dementia and Alzheimer's disease.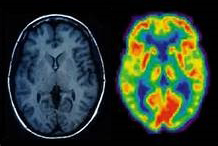 We will also be exploring the genetic, environmental and lifestyle factors that contribute to this increased risk. We aim to be able to identify preventive measures to maintain good health and activity for as many years of later life as possible, and so to influence national health policy. We hope also to gain valuable biological information about early cognitive (memory and thinking) decline, which may in due course help determine how best to design drugs to prevent Alzheimer's disease and other forms of dementia, and how best to conduct drug trials aiming to see if these therapies are effective.
The first two waves included 502 study members, who had clinic visits roughly 2 years apart. The results from these waves have meant we have been able to show how high blood pressure in midlife can influence brain health. We have also been able to add to the conversations around head injuries within sports and the impact these injuries can have to the brain.
Wave 3
We are pleased to announce that the third wave of data collection is underway. In this third wave we are increasing the number of study members who are invited, in the hope we will be able to gain a greater understanding of the mechanisms behind brain ageing.
The study involves a 2 day clinic visit in London and will involve a number of measurements including memory tests, clinical examination, exercise assessments and a brain scan.
Who will be invited?
We will be recruiting existing active NSHD study member. The study team will be sending out invitation letters to all study members who are eligible to take part. We are expecting the study to run for a number of years.
If you have any queries regarding the appointment, please contact the study team on 020 3448 4773.
For more general enquiries, please contact NSHD directly on 0800 952 0249 or 0207 670 5705 or MRCLHA.Enquiries@ucl.ac.uk
The study is a collaboration with neurologists from the National Hospital for Neurology and Neurosurgery, and Institute of Neurology at UCL.
External articles and blogs
How a 76year long study has allowed a better understanding of brain health and dementia risk
Alzheimers Research UK has recently released a blog which highlights some of the findings from the Insight 46 study, which has had significant implications for the way we understand and study brain health.
Alzheimers Research UK Blog
We've been studying the same people for 76 years – this is what we've found out about Alzheimer's disease
As part of a of the The Conversation – Insight's Uncharted Brain series,  Jon Schott and Marcus Richards writes about the history of the MRC NSHD and the exciting work which the Insight 46 study doing to help increase our understanding of Alzheimer's disease
The Conversation Article